Shah Alam, 6 October 2022 – There's a brand-new Internet plan in town and it'll blow your socks off. Time has just introduced 2Gbps to Malaysia so that everyone can live, work and play to their fullest online.
Committed to always delivering the highest speeds at the best value per Mbps, the launch of Time's 2Gbps plan also comes with great deals on their existing Time Fibre Home plans.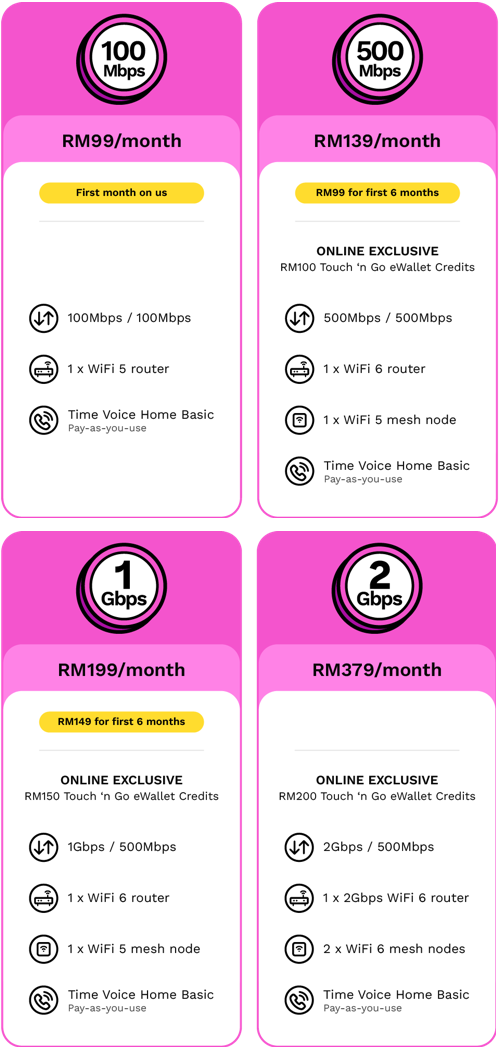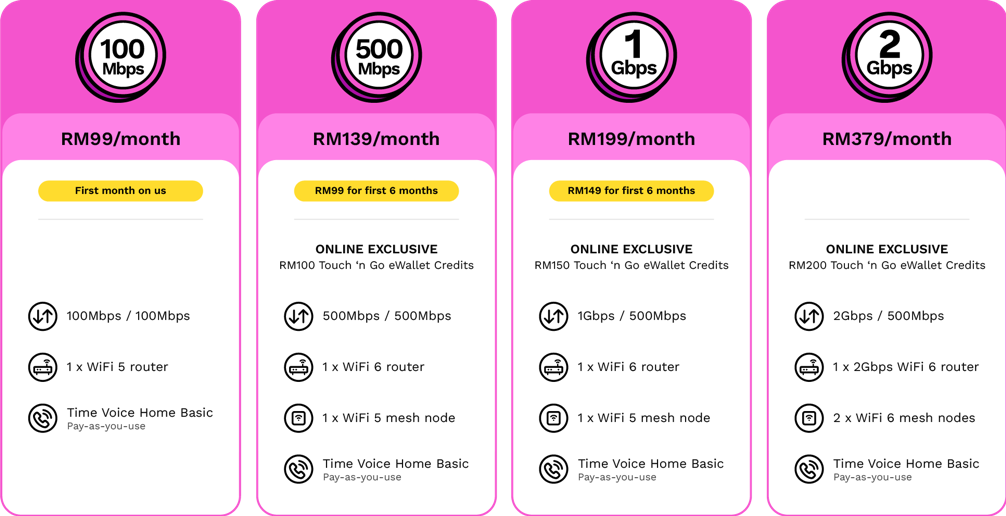 The 2Gbps plan, which comes with 2 free WiFi 6 mesh devices, is available at select locations within Time's coverage from 7 October 2022 onwards with plans to continue rolling out in phases until all customers can enjoy Malaysia's fastest home Internet speeds.
"To this exact date 4 years ago, we changed the game when Time launched the first ever gig-speed plan for Malaysians. While 1Gbps still leads the market, we've chosen not to rest on our laurels and instead, double our speed offering once again as our customers deserve the very best," said Rohaila Basir, Head of Special Projects, CIC's Office.
She added, "The past 2 years have seen a surge in Internet usage. The demand for stable, high-speed connectivity will only increase and the best way to prepare is stay ahead of the game. We know everyone will need more bandwidth, so why wait? We will continue to innovate on both the product and service fronts to make great Internet available to even more Malaysians."
2Gbps is being deployed commercially off the back of Time's 10G PON network, a first in Malaysia. Increased market demand for bandwidth and new technology signals that Malaysia is ready to take things to the next level.
Same Day Internet
Time understands its customers' fast-paced lifestyle demand similarly fast-paced service. As part of its push for service excellence, Time now offers same day service installation to most customers within its coverage who subscribe before 10am. The option will be available to new customers at the point of subscription, where available.
Pakej MyKabel
November will see Time launch Pakej MyKabel, a targeted offering aimed at premises where stable, high-speed broadband penetration is low. Time aims to make gigabit Internet access available to even more Malaysians through the introduction of Pakej MyKabel. The offering will be rolled out in phases to selected locations.
Visit time.com.my for more information.
###
About TIME dotCom Berhad
Time is a telecommunications provider that delivers domestic and global connectivity, data centre, cloud computing and managed services to customers across ASEAN. Powering Time's businesses are its fibre optic network assets that span Malaysia, Singapore, Thailand, Vietnam and Cambodia – countries in which it has an established operational presence. Time's network extends beyond the region to deliver international connectivity via its stakes in the UNITY, FASTER, Asia Pacific Gateway (APG) and Asia-Africa-Europe-1 (AAE-1) subsea cable systems. Time is headquartered in Shah Alam. Visit http://www.time.com.my for more information.
Media contact:
Loo See Mun
Email : seemun.loo@time.com.my