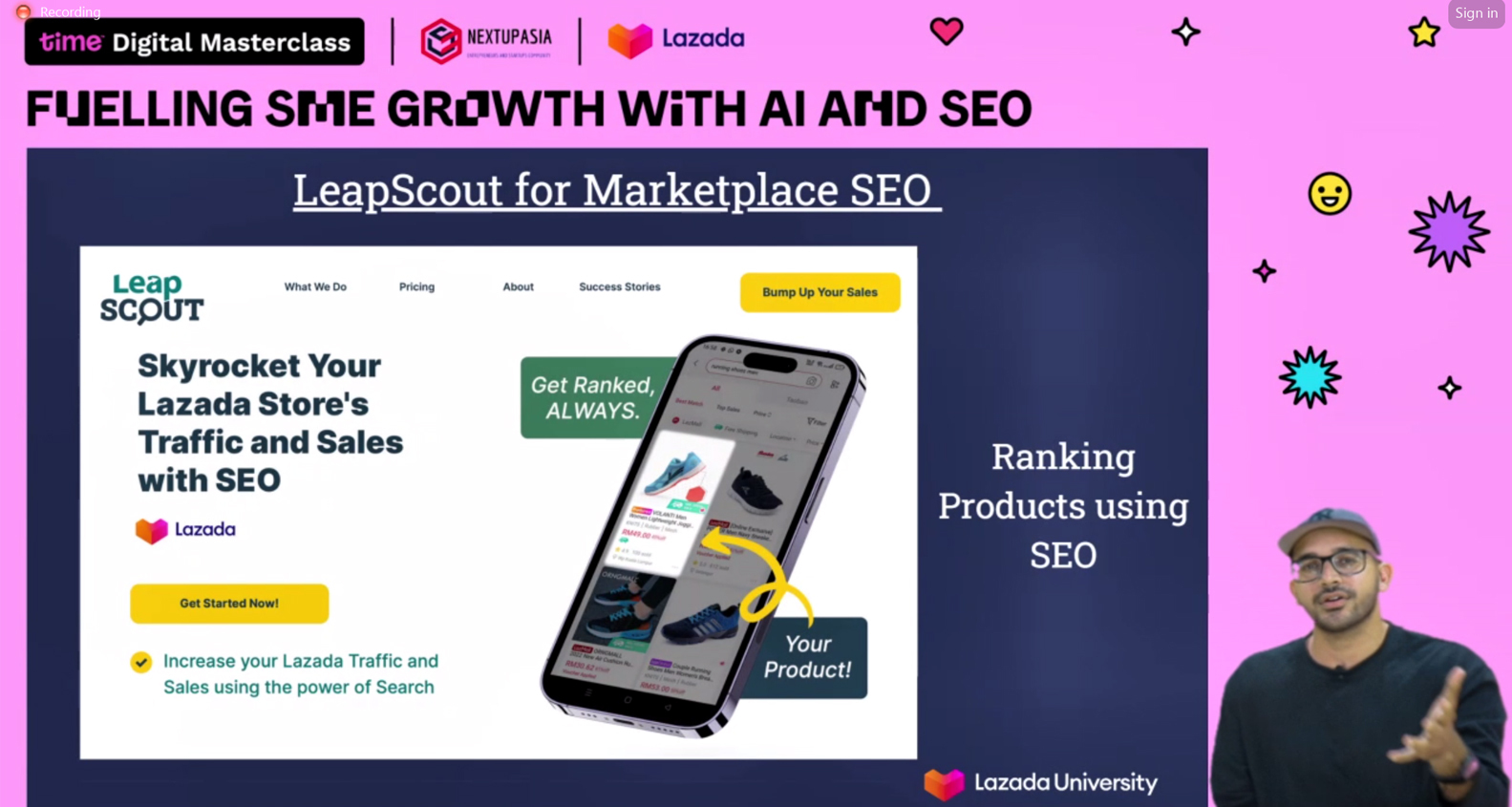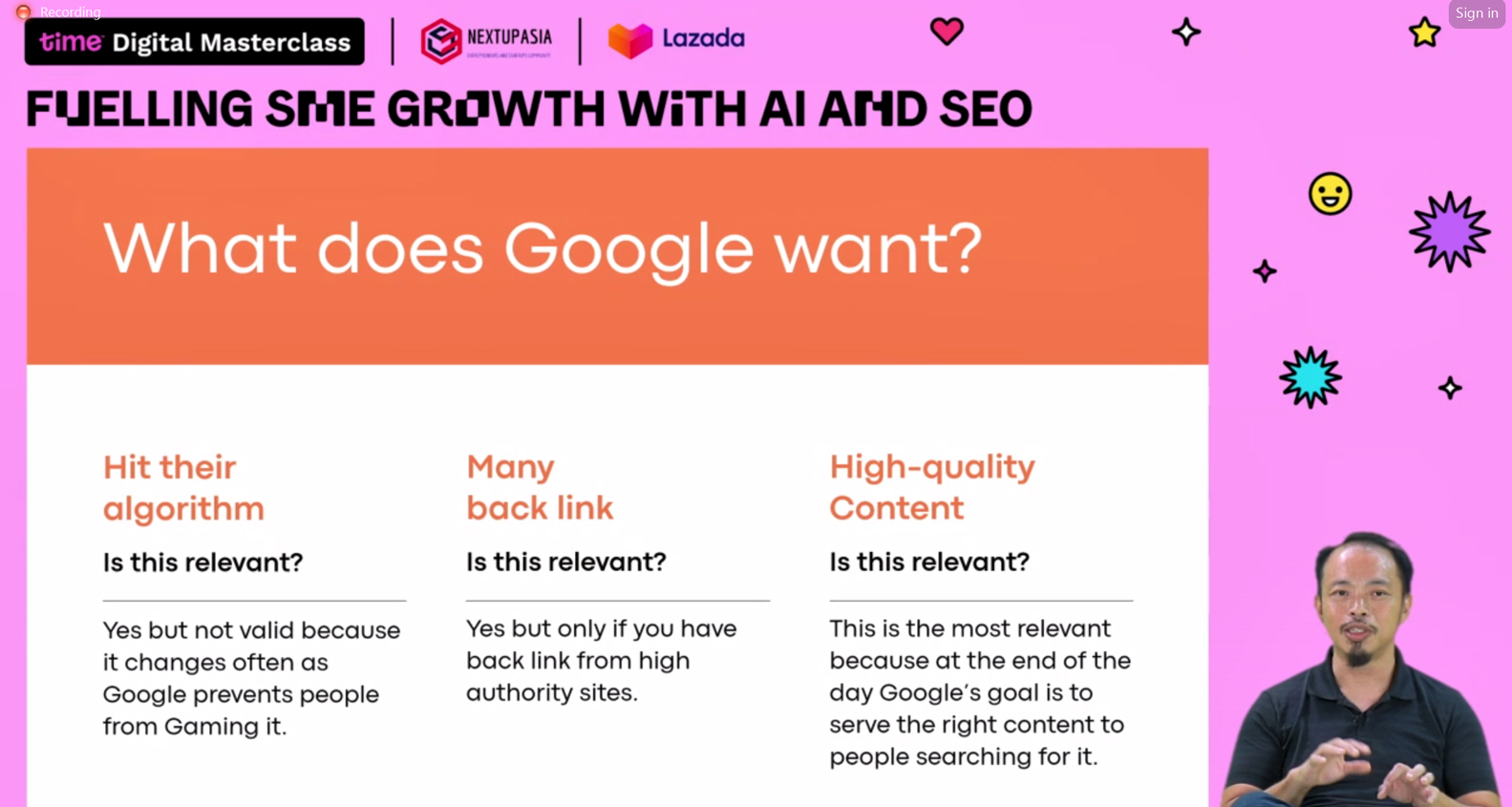 The latest instalment of Time Digital Masterclass empowered SMEs with the key to unlocking digital success. With a focus on enhancing online presence, elevating customer engagement, and mastering SEO, the webinar was a game-changer for SMEs.
The session featured two speakers who showed how Al can revolutionise daily business operations, automate tasks, and upskill the workforce for effective content marketing and email campaigns, ultimately transforming teams into content marketing champions. These insights were brought to life through several real-world case studies, demonstrating the tangible impact of AI for SMEs.
Now, onto the exciting part: the participants delved deep into the world of SEO keywords, advanced research techniques, and learned about long-tail keywords to boost online visibility. But that's not all; they mastered the art of on-page SEO optimisation, from title tags to meta descriptions, headers and content, making their businesses stand out. Off-page SEO strategies were explored, providing valuable insights into web searchability, the influence of social media on SEO, and safeguarding their online reputations.
Shahbaaz Ali, Lazada Certified Trainer (MY), revealed that small efforts in the SEO game can lead to big wins. One of his key takeaways was, "Crafting well-researched blog articles, designed to answer your customer's most pressing questions, can work wonders for SMEs. These articles, when thoughtfully created, not only build trust but also attract focused traffic. They assist in ranking on top keywords, ensuring that your SME's online presence is both informative and influential."
He also shared the recipe for a high-performing landing page that can convert visitors into customers. It's not about listing products' features; the secret lies in focusing on the benefits of your product or service offerings instead of just listing product features. By addressing 'pain points' your solutions solve, you could connect and engage with your audience effectively. He shared, "For example, when selling an SEO ranking tool, it wasn't just about tracking keywords; it was about helping users outperform their competition."
Our second speaker, Daniel Cerventus, Founder of NextUpAsia & Curator of TEDxKL, offered insights into measuring and analysing SEO performance for those who might find analytics daunting. He recommended utilising user-friendly tools like https://www.serprobot.com/ to check rankings for the top keywords. These accessible tools can be a starting point for SMEs to monitor their SEO performance and make data-driven decisions.
Daniel also discussed the challenges faced by SMEs in various industries, including F&B, Retail, and Services. "A lot of SMEs worry about the technical aspects of SEO, but the long game was about finding those keywords with lower competition to rank for. For those businesses with physical locations, it is crucial to claim and update your Google Business Profile, it ensures business and brand visibility, not only in Google searches, but also on Google Maps, which is a key strategy for optimizing both online and offline presence," he emphasised.
Looking forward, the speakers envision a future where SMEs flourish and fully embrace the power of AI and SEO to achieve remarkable growth and success in the digital realm. They hope that the small efforts and insights shared during the session will translate into substantial gains for SMEs, allowing them to enhance their online presence, engage customers effectively, and master the art of SEO.
Subscribe to Time Digital Masterclass for more and get notified of upcoming classes!